Equity Funding Support to MSME
Rs 50,000 cr. Equity infusion for MSMEs through Fund of Funds
Govt will set up a Fund of Funds with a corpus of Rs 10,000 crore that will provide equity funding support for MSMEs. The Fund of Funds shall be operated through a Mother and a few Daughter funds. It is expected that with leverage of 1:4 at the level of daughter funds, the Fund of Funds will be able to mobilise equity of about Rs 50,000 crores.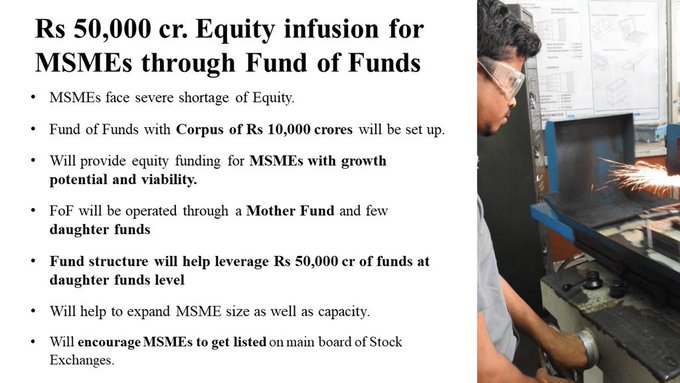 • MSMEs face severe shortage of Equity.
• Fund of Funds with Corpus of Rs 10,000 crores will be set up.
• Will provide equity funding for MSMEs with growth potential and viability.
• FoF will be operated through a Mother Fund and few daughter funds
• Fund structure will help leverage Rs 50,000 cr of funds at daughter funds level
• Will help to expand MSME size as well as capacity.
• Will encourage MSMEs to get listed on main board of Stock Exchanges.
Other Support to MSME
• MSMEs currently face problems of marketing and liquidity due to COVID.
• e-market linkage for MSMEs to be promoted to act as a replacement for trade fairs and exhibitions.
• Fintech will be used to enhance transaction based lending using the data generated by the e-marketplace.
• Government has been continuously monitoring settlement of dues to MSME vendors from Government and Central Public Sector Undertakings.
• MSME receivables from Gov and CPSEs to be released in 45 days